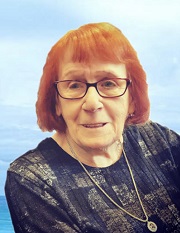 Mrs Yolande Larson
It is with great sadness that we announce the passing of our beloved mother, Yolande Larson (nee Bureau), on May 13, 2019 at the age of 85 years old. She leaves in mourning her children Lynn, Carl Jr, Craig and Cindy. Although our hearts are broken, we take comfort in knowing that she is now with her blue-eyed husband she adored Carl, her beautiful granddaughter Tammi, and her scrabble playing partner and sister Irene. We will look back fondly at her generosity of a full fridge, a home with an open-door policy and especially her home-made cinnamon buns, angel food cake and strawberry rhubarb pie. "Mom" to her children and "Tutu" to her grandchildren will be sadly missed.
 DÉTAILS
The family will receive condolences on Sunday, May 26th from 1 pm to 5 pm at Roy Funeral Complex, 1000 Montée Masson, Mascouche.
If desired, donations may be made to "Summit School'" for their TECC campus, a work training program for students with autism and or intellectual disabilities or the local organization "Sur la route de anges" which provides and services and support for individuals living with cancer and those in palliative care.